AMD is set to close out the year on a high note. As promised, the company will be delivering its latest 16-core Ryzen 9 3950X processor, built with two 7nm TSMC chiplets, to the consumer platform for $749. Not only this, but AMD today has lifted the covers on its next generation Threadripper platform, which includes Zen 2-based chiplets, a new socket, and an astounding 4x increase in CPU-to-chipset bandwidth.
This year AMD is presenting its 'Fall 2019 Desktop Update', covering the new products for the holiday season. Q4 is historically a good target for increased consumer sales, as long as the products hit the right price point and are available in volume for the peak shopping periods. We've been waiting mercilessly for more details about the crème-de-la-crème of what AMD has to offer with its 7nm product portfolio for both mainstream Ryzen desktop processors, but also the creator and workstation focused 3rd Gen Threadripper. After continuously requesting information from CEO Lisa Su since the middle of the year, AMD is lifting the lid on the product details, pricing, and launch dates.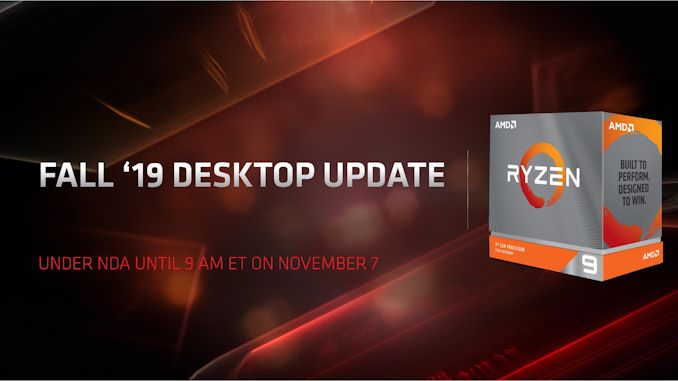 The short version of today's announcement revolves around several parts, in completely different markets.
The Ryzen 9 3950X 16-core CPU for desktops
Ryzen Threadripper 3rd Gen Family: Starting with the 24-core 3960X and 32-core 3970X
New TRX40 motherboards for the new Threadripper Processors
A new $49 Athlon 3000G for the entry level market
All of this hardware is set to come to market through the month of November at the following dates:
Ryzen 9 3950X: Reviews on November 14, Retail on November 25
TR 3960X and TR 3970X on November 25th
TRX40 motherboards on November 25th
Athlon 3000G on November 19th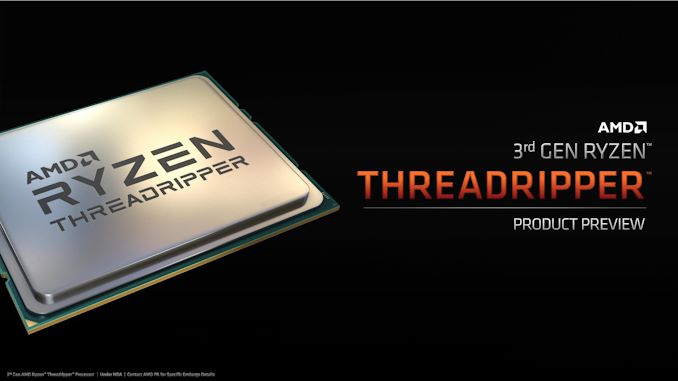 One key takeaway from today's announcements is how AMD is moving the traditional desktop and high-end desktop markets. When CEO Dr. Lisa Su was asked earlier this year what will happen to Threadripper as the mainstream Ryzen family moves 'up' in performance, her response was that 'Threadripper will move up-up'. To that effect, we are seeing AMD's delineation between mainstream desktop and high-end desktop move up to between 16-core and 24-core, with room at the top for more cores if AMD wants to go that way.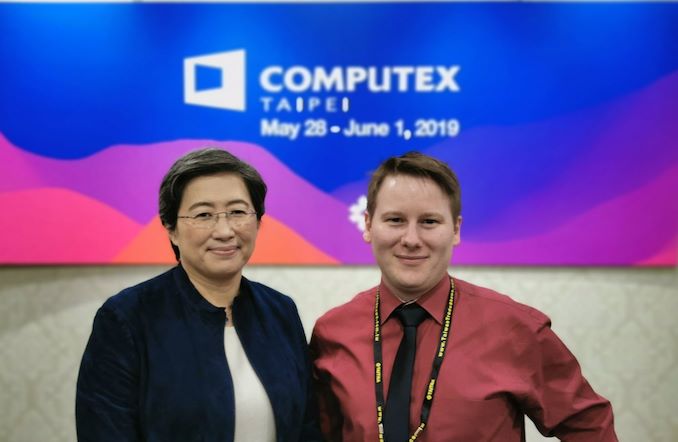 Our Group Interview with Dr. Lisa Su at Computex 2019
This new hardware is also breaking new records for enthusiast CPU TDP values, as well as representing new ground on the latest 7nm process technology now available to the wider market. Details about pricing, TDP, AMD's strategy, AMD's performance numbers, TRX40 chipset information, and analysis of the announcements are all inside.
High-End Desktop? What's That?
The Ryzen 9 3950X Comes Into View
As teased at E3 and seemingly every show that AMD has been to since, we're now ready to get our hands on AMD's top-tier consumer-grade processor. The Ryzen 9 3950X is the bigger cousin to the Ryzen 9 3900X, this time using two 8-core chiplets built on TSMC's 7nm process with the Zen 2 microarchitecture. This is paired with the same I/O die, and overall this Ryzen 9 3950X will offer four more cores and +100 MHz on the turbo frequency over the 3900X, all at a $749 recommended retail price point.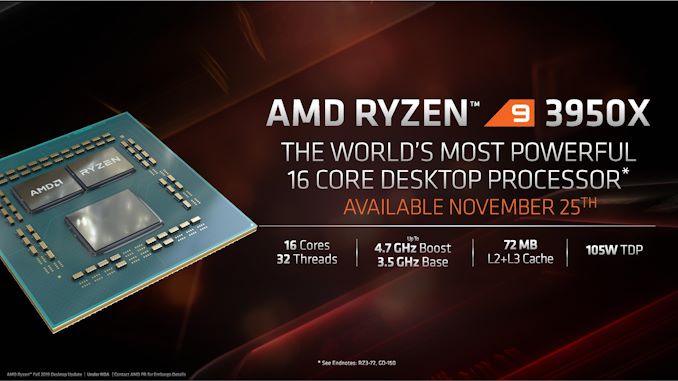 AMD 'Matisse' Ryzen 3000 Series CPUs
AnandTech
Cores
Threads
Base
Freq
Boost
Freq
L2
Cache
L3
Cache
PCIe
4.0
Chiplets
IO+CPU
TDP
Price
(SEP)
Ryzen 9
3950X
16C
32T
3.5
4.7
8 MB
64 MB
16+4+4
1+2
105W
$749
Ryzen 9
3900X
12C
24T
3.8
4.6
6 MB
64 MB
16+4+4
1+2
105W
$499
Ryzen 9
3900
12C
24T
3.1
4.3
6 MB
64 MB
16+4+4
1+2
65W
OEM
Ryzen 7
3800X
8C
16T
3.9
4.5
4 MB
32 MB
16+4+4
1+1
105W
$399
Ryzen 7
3700X
8C
16T
3.6
4.4
4 MB
32 MB
16+4+4
1+1
65W
$329
Ryzen 5
3600X
6C
12T
3.8
4.4
3 MB
32 MB
16+4+4
1+1
95W
$249
Ryzen 5
3600
6C
12T
3.6
4.2
3 MB
32 MB
16+4+4
1+1
65W
$199
Ryzen 5
3500X
6C
6T
3.6
4.1
3 MB
32 MB
16+4+4
1+1
65W
OEM
The Ryzen 9 3950X will be compatible in the majority of AM4 motherboards, although in order to take advantage of the 24 PCIe 4.0 lanes on the CPU, an X570 motherboard is recommended. The 16 cores offer a 3.5 GHz base frequency and a 4.7 GHz single core boost frequency; the overall all-core turbo frequency will be dependent on the motherboard used, the quality of the silicon, and the turbo in play.
The 105W TDP matches that of the 12-core part, and it should be noted that the 3950X will not come with an in-the-box cooler. Instead, AMD argues that customers looking at this price range of CPU typically go out and purchase their own, something better than the 125 W Wraith Prism that AMD might have put in the box. To that end AMD is going to publish a list of recommended cooling solutions that are pre-validated by AMD on the website, which should be live on today (the 7th).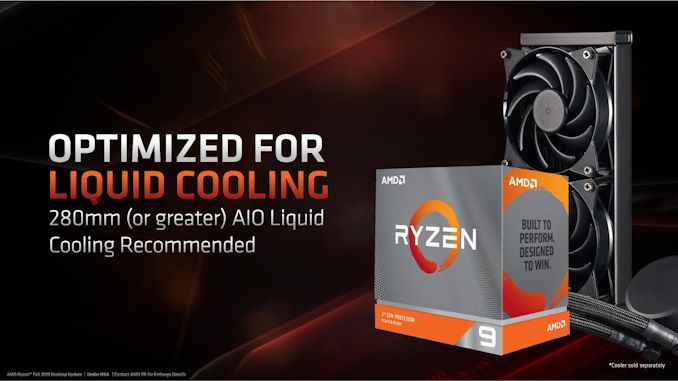 Regarding BIOS and AGESA versions on motherboards: AMD has stated that AGESA 1.0.0.4B (also known as 1.0.0.4 Patch B) is going to be required in order to enable full performance on the Ryzen 9 3950X. AMD stated that this AGESA version actually unites several different groups of Ryzen CPUs under the same numbering scheme, to make it easier to manage. It is worth noting that when quizzed, AMD acknowledged that some motherboard manufacturers were putting out 'beta' versions of 1.0.0.4B, rather than the full release, and they recommend that users should wait for a full 1.0.0.4B version for their motherboard (even though some motherboard manufacturers aren't exactly being clear).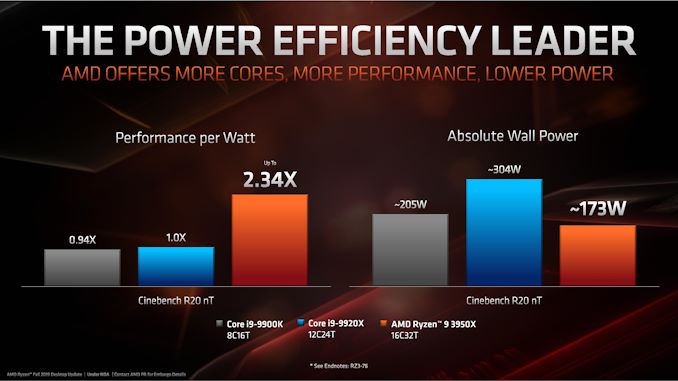 In terms of performance, AMD claims a +22% single thread performance jump for the 3950X over the 2700X, in 1080p gaming the company claims it goes toe-to-toe against the Core i9-9900K and trounces the Core i9-9920X (a $1200 CPU), and in content creation it surpasses both the 9900K and 9920X by 18-79% in selected tests. The company also states that a 16-core 3950X uses less wall power than an 8-core 9900K system.
Unlocked CPU Pricing
and Select Others
AMD
(MSRP Pricing)
Cores
AnandTech
Cores
Intel*
(OEM Pricing)
 
 
$900-$999
18/36
Core i9-10980XE ($979)
 
 
$800-$899
 
 
Ryzen 9 3950X ($749)
16/32
$700-$799
14/28
Core i9-10940X ($784)
 
 
$600-$699
12/24
Core i9-10920X ($689)
 
 
$500-$599
10/20
8/16
Core i9-10900X ($590)
Core i9-9900KS ($513)
Ryzen 9 3900X ($499)
12/24
$400-$499
8/16
Core i9-9900K/F ($488)
Ryzen 7 3800X ($399)
8/16
$350-$399
8/8
Core i7-9700K/F ($374)
Ryzen 7 3700X ($329)
8/16
$300-$349
 
 
 
 
$250-$299
6/6
Core i5-9600K ($262)
Ryzen 5 3600X ($249)
6/12
$200-$249
 
 
Ryzen 5 3600 ($199)
6/12
Below $200
4/4
Core i3-9350K ($173)
*Intel quotes OEM/tray pricing. Retail pricing will sometimes be $20-$50 higher.
With Intel cutting its upcoming Cascade Lake-X HEDT processor line in half (and conveniently not releasing a 16-core part), the field does get a little more competitive for anyone looking at building a holiday system. What is important to note here is that AMD is shifting the line between consumer and high-end desktop higher: users spending $749 on a CPU get a ton of cores, but if they need more PCIe lanes, they have to go even higher to get the latest and greatest (see 3rd Gen Threadripper below). On a different note, AMD did state that Intel's recent price adjustments had no effect on its product plans.
One side announcement from AMD, regarding all of the Ryzen 3000 hardware, is that every CPU now supports a cTDP down mode through the Ryzen Master software. With the tool, users can select the next power range down from the TDP of the processor. This means that 95W/105W CPUs can be set to run at 65W, then the 65W CPUs can be set to run at 45W, and the 45W CPUs can run at 35W.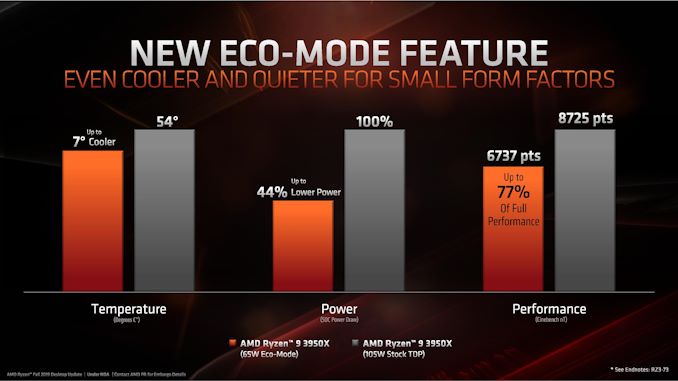 AMD is doing this because they have seen a number of customers request high-core count processors at lower TDP values. Rather than releasing a wide array of X and non-X parts to satisfy all different areas of the market, AMD is offering this 'cTDP down-like' option for system builders that do want to focus on something like a 65W 16-core processor for their system. This isn't to say that AMD will not release non-X CPUs in the future (they're typically cheaper than the X CPUs), but rather than have customers wait for those parts to enter the market, AMD is giving this option to speed up adoption.
3rd Gen Ryzen Threadripper, Up to 32-Cores
It's the product a lot of users have been waiting for. Ever since AMD introduced the world to its Rome processors, with up to 64 cores based on 7nm chiplets and the Zen 2 microarchitecture, rumors have been swirling about what exactly the corresponding Threadripper platform will bring. We now have the answers to your questions.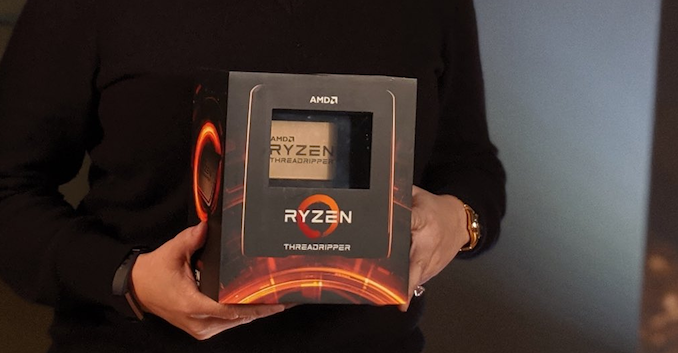 From CEO Dr. Lisa Su's Twitter
The two processors that AMD will be initially launching in the 3rd Generation Ryzen Threadripper family are the TR 3960X and the TR 3970X. These are 24-core and 32-core parts respectively, built using four chiplets and one IO die in a Rome-sized package. Both CPUs will feature a 280 W TDP, and offer boost frequencies up to 4.5 GHz.
AMD HEDT SKUs
 
Cores/
Threads
Base/
Turbo
L3
DRAM
1DPC
PCIe
TDP
SRP
Third Generation Threadripper
TR 3970X
32 / 64
3.7 / 4.5
128 MB
4×3200
64
280 W
$1999
TR 3960X
24 / 48
3.8 / 4.5
128 MB
4×3200
64
280 W
$1399
Second Generation Threadripper
TR 2990WX
32 / 64
3.0 / 4.2
64 MB
4×2933
64
250 W
$1799
TR 2970WX
24 / 48
3.0 / 4.2
64 MB
4×2933
64
250 W
$1299
TR 2950X
16 / 32
3.5 / 4.4
32 MB
4×2933
64
180 W
$899
TR 2920X
12 / 24
3.5 / 4.3
32 MB
4×2933
64
180 W
$649
 
Ryzen 9 3950X
16 / 32
3.5 / 4.7
32 MB
2×3200
24
105 W
$749
There's a lot to unpack here.
The 32-core TR 3970X has 64 threads, a base frequency of 3.7 GHz, a turbo frequency of 4.5 GHz, comes with 64 PCIe 4.0 lanes, four memory channels of DDR4-3200 (1DPC), and will retail at $2000. To put that in perspective, it wasn't too long ago that for that money you would only get 10 cores.
The 24-core TR 3960X offers almost the same, but trades a few cores for a 3.8 GHz base frequency and will retail for $1399. The competition for this part is likely to be the Core i9-10980XE, which has 18-cores and has a tray price of $979.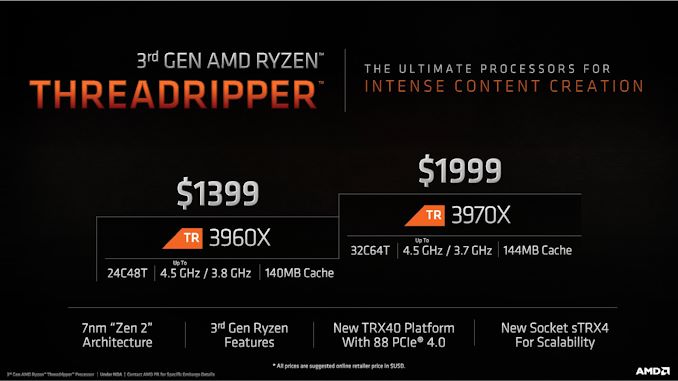 Both CPUs have 128 MB of L3 cache, due to the use of four chiplets. We asked AMD if these CPUs have 4 chiplets inside the package and 4 dummy ones, like the dummy silicon in previous Threadripper products – AMD confirmed that there will only be four chiplets in each package. This means that each CPU will be in a symmetrical 6+6+6+6 or 8+8+8+8 configuration, minimizing the total amount of silicon AMD has to ship.
Each CPU supports four channels of DDR4-3200. We confirmed that this included support for ECC UDIMMs on a board-by-board basis, but does not include RDIMM or LRDIMM support. AMD did state that these new CPUs are validated for the 32 GB DDR4 modules coming onto the market, which makes a realistic maximum DRAM support of 256GB (8 x 32GB).
For performance, AMD gave us some numbers comparing each CPU to the 18-core Core i9-9980XE from Intel. In common workstation tasks, such as program compilation, Adobe Premier transcoding, and rendering, AMD is quoting a +22-31% performance gain for the 24-core part, and a +36-49% uplift for the 32-core part.
When we asked AMD about AI performance, they stated that while AI is an emerging workload in the enterprise space, for the workstation market these products are targeting exactly what their customers are requesting today: 'Threadripper and Zen 2 have been taken by customers looking at content creation, CAD, and code work/compilation. AI is still an emerging vertical in the workstation at this time.'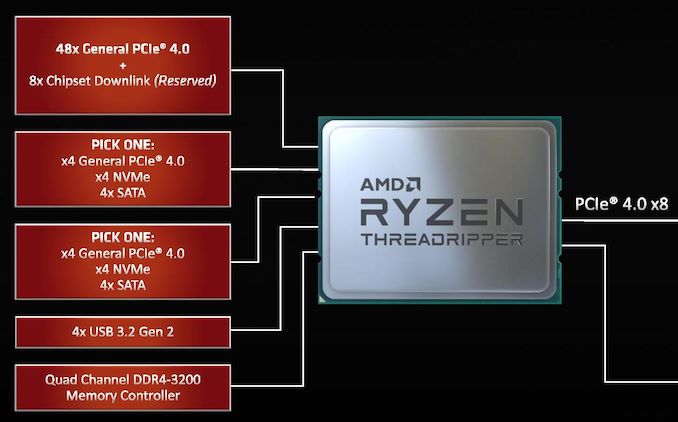 Compared to previous generation Threadripper parts, the new 3rd Gen Ryzen Threadripper features a central I/O die in the hardware which all the chiplets are connected to. This I/O die has all the PCIe lanes and the DRAM channels, which means that the memory latency issues with the 1st/2nd Generation Threadripper should no longer be present with the new chips. Both chips launched here have 64 PCIe 4.0 lanes, which are split into 48x general purpose lanes, 8 lanes for the CPU-to-chipset communications, and 8 lanes for I/O. This means that users can have the following CPU configurations:
1st root complex: x16 or x8/x8
2nd root complex: x16 or x8/x8
3rd root complex: x16 or x8/x8
Chipset downlink: x8
Pick one: PCIe 4.0 x4 slot, 1 x NVMe PCIe 4.0 x4, 4x SATA
Pick one: PCIe 4.0 x4 slot, 1 x NVMe PCIe 4.0 x4, 4x SATA
Obviously things like SATA ports can also come off the chipset. We discuss the new chipset on the next page. But one thing to note here is the CPU-to-chipset connection.
For AMD Ryzen on most AM4 chipsets, for first generation and second generation Threadripper, and for every Intel platform in recent memory, the connection between the CPU and the chipset has been the equivalent of a PCIe 3.0 x4 link. This link, as the industry has progressed into the world of NVMe storage, has become a bottleneck for any user wishing to push a modern PCIe-based storage drive along with anything else on the same uplink. AMD increased it for the X570 motherboard generation to PCIe 4.0 x4 for mainstream, doubling the bandwidth from its closest competitor, but what AMD is doing with the new 3rd Gen Threadripper is increasing that link bandwidth by a factor of two again.
With this CPU, and the TRX40 chipset, users now have a PCIe 4.0 x8 link between the CPU and the chipset. This is the equivalent of a PCIe 3.0 x16 link, or a previous generation full GPU slot. It means that users could, if they wanted, push four times as much data up and down that link. To be honest, this sort of thing should have happened a while go on the Intel side of the equation, so I'm glad that AMD is pushing the boundaries here. It's also one reason for 3rd Gen Threadripper having a new socket.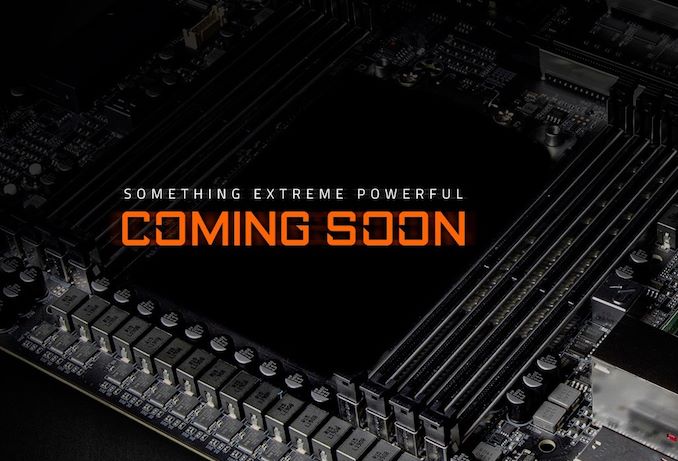 From GIGABYTE's Aorus Facebook Page
Yes, you read that correctly: the new Threadripper requires a new socket. Because of the new CPU-to-chipset link, as well as a few 'forward looking adjustments and scalability', we now have what AMD are calling an sTRX4 socket and related TRX40 motherboards. AMD wasn't prepared to make a statement on the record about committing to this socket long term, but stated that adjustments were made to ensure the future longevity of the platform, so one could infer at least one more generation on this new socket. Technically it is the same 4094 pins as the previous socket, and even the keying (the marks along the side of the processor) is the same, however AMD stated that due to this new PCIe 4.0 x8 requirement, if you put a new processor in an old motherboard (or vice versa), it just won't work.
As for the motherboards, expect a few new parts to enter the market. More details on TRX40 on the next page.
But motherboards aside, I just want to point out that AMD's numbering scheme leaves some room at the top. Above the 3970X, there leaves the potential for a 3980X and 3990X. We know that these CPUs are based on the same layouts as AMD's Rome-based EPYC processors, and those are offered with 48-core and 64-core variants. We may be at a practical TDP limit of 280W, but if there's more room at the top, AMD might take it. At this point, AMD has said that they are only announcing two SKUs today and declined to answer the question of whether any more are coming.
AMD HEDT SKUs
 
Cores/
Threads
Base/
Turbo
L3
DRAM
1DPC
PCIe
TDP
SRP
Third Generation Threadripper
TR3970X + 20 ?
There's some space here for more SKUs
TR3970X + 10 ?
TR 3970X
32 / 64
3.7 / 4.5
128 MB
4×3200
64
280 W
$1999
TR 3960X
24 / 48
3.8 / 4.5
128 MB
4×3200
64
280 W
$1399
TRX40: More High-End Motherboards for TR3
The new sTRX4 socket will be paired with a TRX40 chipset – a design that AMD says comes from an in-house team and built on GlobalFoundries 14nm. The new chipset, updated from the previous X399 in this space and even updated from the X570 in the consumer space, is the other half in the CPU-to-chipset bandwidth story.  By using a PCIe 4.0 x8 link, AMD is removing almost any practical bandwidth limitation downstream from the CPU.
The new TRX40 chipset will come with a degree of modularity.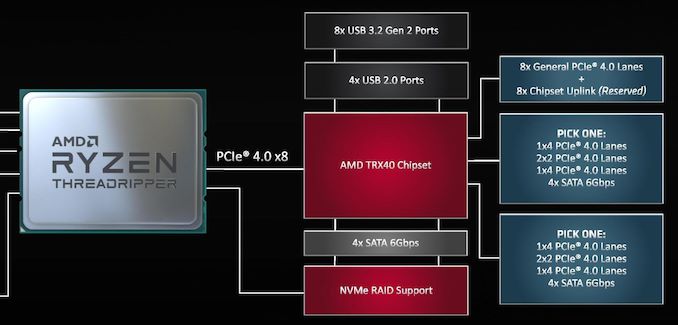 From the chipset, we can see motherboard manufacturers afforded a full PCIe 4.0 x8 slot, up to another x8 lanes as two x4 connections or further bifurcated, or instead of those bifurcated lanes, either four or eight more SATA ports. That's 8 SATA ports on top of the four already present on the chipset.
So I like these modular systems. It allows motherboard manufacturers to go crazy with offering potential systems. For example:
Potential TRX40 Variants
AnandTech
CPU
Chipset
TRX40 SATA Powerhouse
20 drives
x48 for PCIe slots
x8 for downlink
8x SATA from options
x8 for dual NVMe
8x SATA from options
4x SATA from chipset
TRX40 NVMe
Powerhouse
18+ drives
x48 for PCIe slots
x8 for downlink
dual NVMe from options
x8 for dual NVMe
dual NVMe for options
–
So that would be a motherboard with x16/x16/x16 (or x16/x8/x16/x8) in terms of PCIe 4.0 slots, a single x8 slot for a pair of NVMe drives, and then TWENTY SATA ports, all directly supported on the system without any additional controllers.
If SATA isn't your thing, then the same arguments could be made for 48 PCIe lanes and six PCIe 4.0 x4 NVMe slots, making a total of 18 high capacity PCIe 4.0 drives. The fact that AMD has put more PCIe lanes into their high end desktop platforms, plus this amount of modularity, wants me to play Dr. Frankenstein.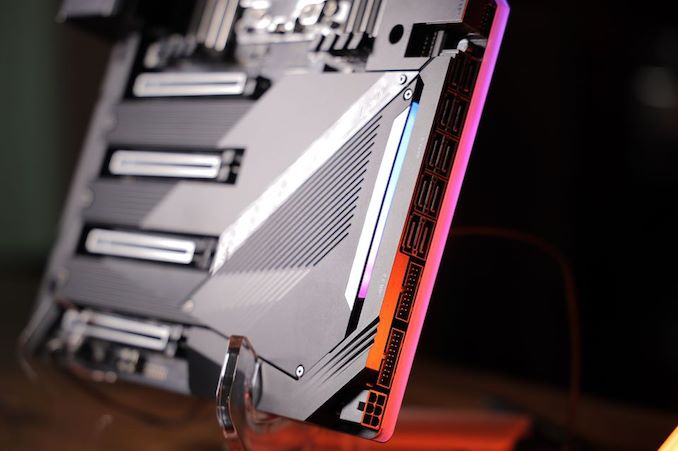 To be fair, those ideas are a bit extreme. Motherboard manufacturers will likely have to partition off a few lanes for 10 GbE networking, perhaps Thunderbolt, or maybe something more exotic like a RAID controller, or an RGB controller.
As noted in some of our previous news posts, motherboard manufacturers have been slowly leaking names of their TRX40 products. At this point in time we have seen mentions of the following:
ASRock TRX40 Creator
ASRock TRX40 Taichi
GIGABYTE TRX40 AORUS XTREME
ASUS Prime TRX40 Pro
ASUS ROG Zenith II Extreme
MSI TRX40 Creator
MSI TRX40 Pro 10G
MSI TRX40 Pro Wi-Fi
We expect details of some of these to perhaps be announced today, or on the 25th when the CPUs come to market. GIGABYTE has even been showing previews of their motherboards on social media, with one showing an obscene number of power phases, and we've seen images of boards with 8 SATA ports. We'll have our usual motherboard overview article up on that date, and we'll be looking at reviews of these motherboards through the new year.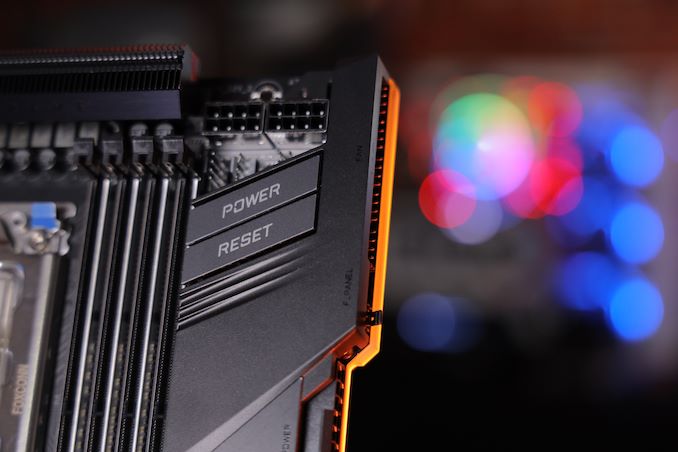 I will address comments about potential TRX80/WRX80 motherboards which have been put into the ether as potential other chipsets being launched. When asked, AMD said that the only chipset they are launching today is TRX40.
AMD Athlon 3000G: Aligning Names and Numbers at $49
The odd-one out from today's announcement is a processor at the other end of the portfolio. To put it into context, if a user wants to jump on board the 7nm and Zen 2 bandwagon, the entry price point is $199 for the Ryzen 5 3600. Below that we have older hardware based on Zen 1, and AMD's APU line of processors featuring integrated graphics. The new Athlon 3000G sits firmly in this category, and aims to be a very interesting processor indeed.
The Athlon 3000G is a 35W dual core Zen+ processor with 3 compute units of Vega graphics, built on 12nm and falls in the Picasso family of hardware. It doesn't have any turbo, but does have a nominal frequency of 3.5 GHz on the CPU and 1100 MHz on the GPU. Supported memory speeds are DDR4-2933 and it can support up to 64 GB. It will come bundled with AMD's 65W near-silent stock cooler, which is absolutely overkill for this product.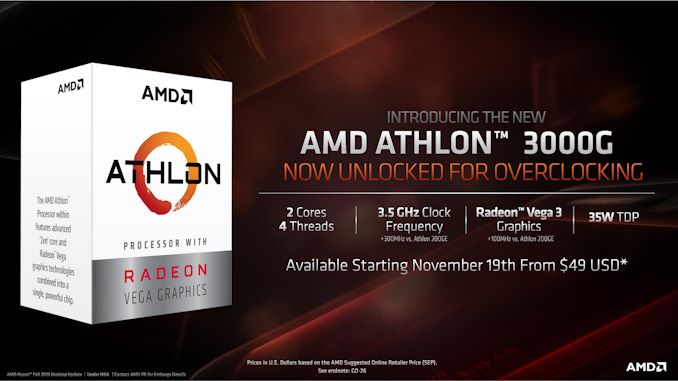 If a dual core Zen+ Picasso APU sounds familiar, it's because AMD already has a processor that fits the bill: the AMD Athlon 300GE. Following previous convention, I would have expected AMD to call this new processor the 320GE, as it has +100 MHz more on the CPU. However, AMD are changing the naming for two reasons.
First, to align it more with the Ryzen family. With the Ryzen 3000 series starting with the Ryzen 3 3200G for the 65W Zen+ APUs, moving into the Ryzen 5 3600 for the 65 W desktop Zen 2 CPUs, each of these are four digits plus a letter. By moving to 3000G, it allows AMD to equate the two families together (even if there's still an APU/desktop CPU microarchitecture mismatch).
AMD AM4 APU List
AnandTech
Cores
Threads
Base
Freq
Turbo
Freq
Vega
CUs
TDP
Price
12nm Zen+ – Picasso
Ryzen 5 3400G
4 / 8
3700
4200
11
65 W
$149
Ryzen 3 3200G
4 / 4
3600
4000
8
65 W
$99
Athlon 3000G
2 / 4
3500
–
3
35 W
$49
Athlon Pro 300GE
2 / 4
3400
–
3
35 W
–
14nm Zen – Raven Ridge
Ryzen 5 2400G
4 / 8
3600
3900
11
65 W
$169
Ryzen 5 2400GE
4 / 8
3200
3800
11
35 W
–
Ryzen 3 2200G
4 / 4
3500
3700
8
65 W
$99
Ryzen 3 2200GE
4 / 4
3200
3600
8
35 W
–
Athlon 240GE
2 / 4
3500
–
3
35 W
$75
Athlon 220GE
2 / 4
3400
–
3
35 W
$65
Athlon 200GE
2 / 4
3200
–
3
35 W
$55
The other aspect is that the Athlon 3000G is also unlocked. AMD touts the 3000G as the first AM4 Athlon that is fully unlocked for overclocking, allowing users to adjust the CPU multiplier as high as their dreams desire (or to the limits of the silicon). As AMD is pairing the CPU with its 65W cooler, that means a lot of users, as long as the motherboard supports overclocking, should be able to push their CPU a bit higher. AMD stated that the +400 MHz in the slide deck for our briefing would represent a 'typical' overclock for an end-user, but then clarified they did use a high-end cooler to achieve that value. Nonetheless, an unlocked $49 chip with a cooler than can handle double the TDP could be exciting for users wanting to test their overclocking skills.
The other feather in AMD's cap for this new chip is that it competes against Intel's Celeron and Pentium desktop processors. Given the high demand for Intel's high-end 14nm products, the Pentium and Celeron parts have been available in relatively low in volumes as they don't make as much money, especially when high-end demand is high. In that instance, AMD has the advantage as the company stated that there will be plenty of Athlon silicon to go around.
Original Source