Hurricane Dorian is churning dangerously close to the Southeast coastline Wednesday, where residents from Florida to the Carolinas are facing powerful rains, wind and flooding.
Interested in
Hurricane Dorian?
Add Hurricane Dorian as an interest to stay up to date on the latest Hurricane Dorian news, video, and analysis from ABC News.
Dorian, now a Category 2, is moving north by the Florida and Georgia coast and might make landfall in North Carolina.
Here's what to expect and when, according to the latest forecast.
Florida
Dorian slammed Florida with strong winds Wednesday, bringing a gust of 69 mph to New Smyrna Beach.
Please refrain from travel to observe storm-related damage. Very light damage reported in NSB.

– Several small and large trees down; Art Center Drive shown in photo.
– Very few city residents and pic.twitter.com/U4YpSqbzDt

— City of New Smyrna Beach (@CityofNSB) September 4, 2019
The heavy rains brought flooding to the Jacksonville area.
A storm surge up to 5 feet is possible.
Georgia
Dorian moved north Wednesday afternoon, bringing heavy rain to Savannah, Georgia, and its surrounding beaches.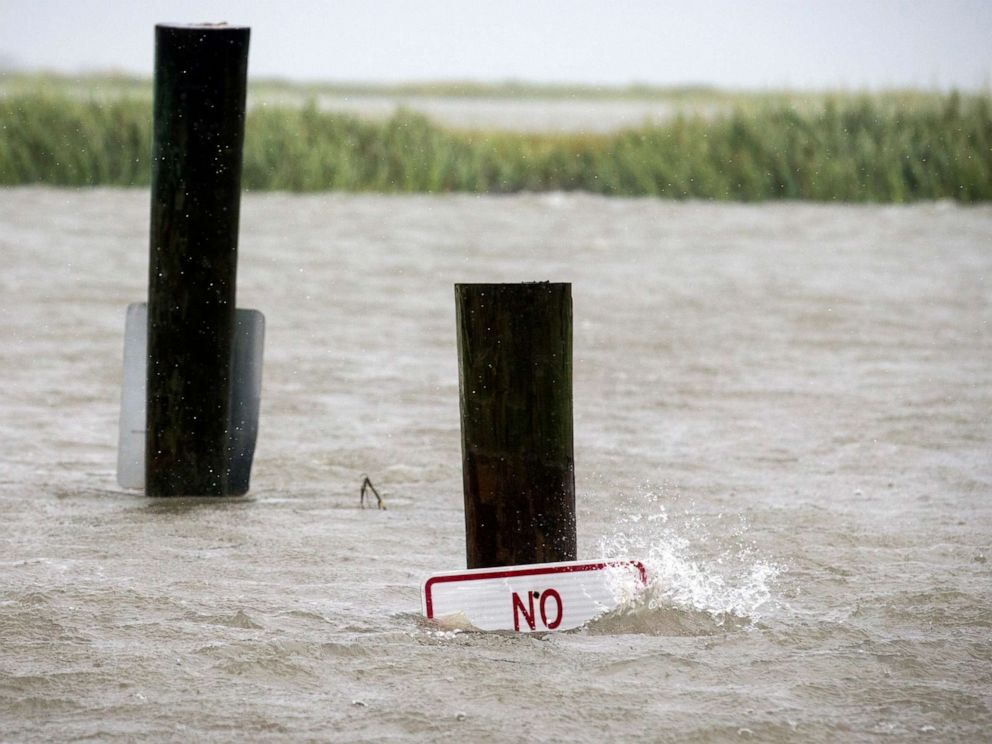 Life-threatening storm surge flooding up to 5 feet is possible.
South Carolina & North Carolina
A hurricane warning is in effect for the entire North Carolina and South Carolina coastline, which will see the brunt of the storm Wednesday night through Thursday and into Friday morning.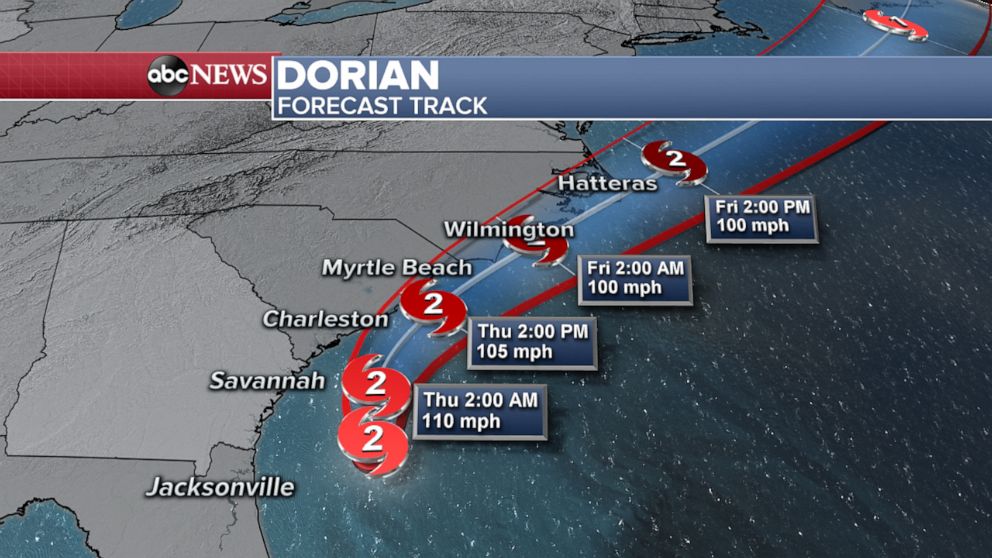 Thursday morning, Dorian will reach Charleston — a city very vulnerable to storm surge and flooding.
Myrtle Beach to Wilmington will get hit during the day on Thursday and North Carolina's Outer Banks will feel the brunt of the storm late Thursday into Friday morning.
Dorian might make landfall in either coastal South Carolina or North Carolina between Thursday night and Friday morning.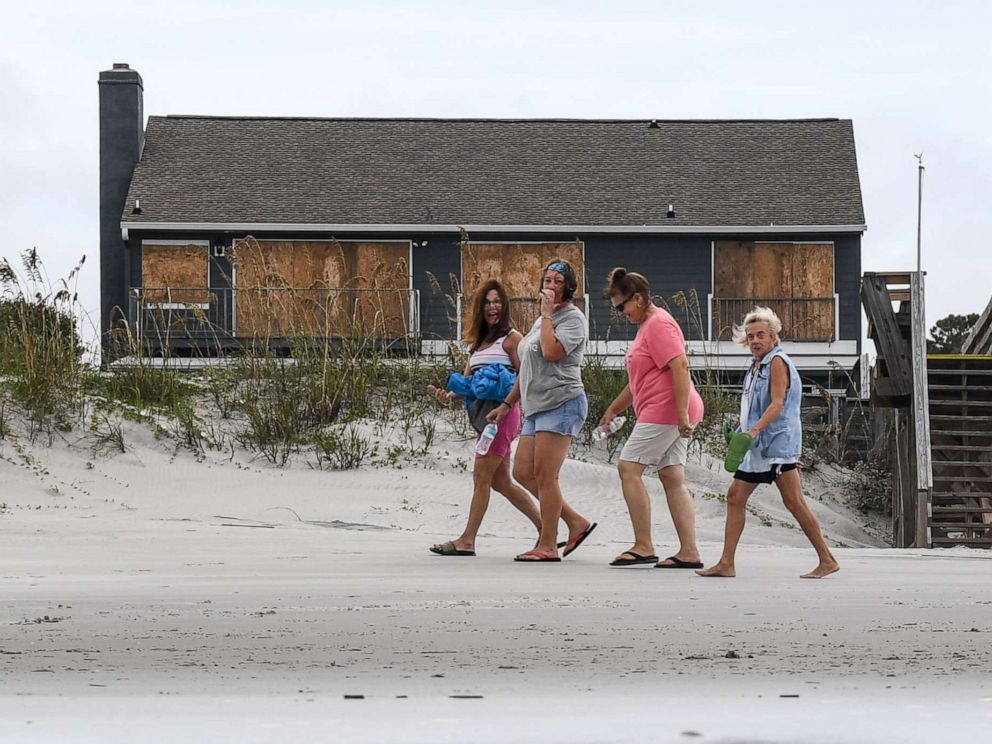 Regardless of landfall, Dorian will be close enough to the Carolina coasts to bring near-hurricane-force winds, storm surge and flooding — the biggest threat will likely be coastal flooding from Charleston to the Outer Banks.
The highest storm surge is expected for the South Carolina coast, where up to 8 feet is possible.
The heaviest rainfall from Dorian is expected to hit the coastal Carolinas, where up to 15 inches of rain is possible.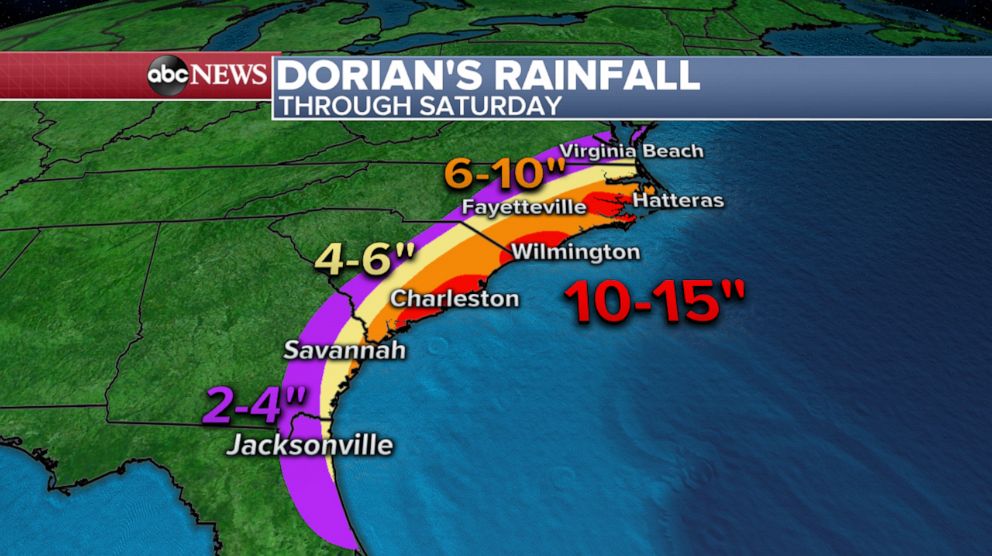 Original Source